Distributor of fire protection products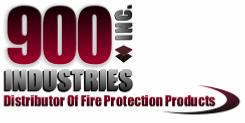 900 Industries, Inc.
16 Deborah Drive Sutton, Ma 01590

Paul McNamara
Owner/President/Treasurer/National Sales Manager



Toll free - 1-800-225-7288
Phone - 508-865-9600

Fax - 508-865-7336
Pressure Switches

System Sensor's line of pressure switches includes the EPS10 Series for use in wet, dry, deluge, and pre-action automatic sprinkler systems to indicate a discharge from a sprinkler. The EPS40 and EPS120 Series supervisory pressure switches are intended for dry pipe systems or pressure tanks and water supplies of automatic water control valves. These models offer a choice of initiating low or high/low pressure monitoring alarms, in a variety of pressure ranges. And should your system involve a potentially hazardous location, System Sensor offers a complete line of explosion-proof alarm and supervisory pressure switches.
Greta Heath
Operations Manager


Tammy Itse
Customer Service Representive

Waterflow Detectors

The WFDN Series waterflow detectors provide a mechanical time delay that is adjusted via an adjustment wheel. This retard mechanism is field replaceable, as is the terminal block.
Model: WFDTN
The WFDTN is a T-Tap waterflow detector for use with a 1" NPT connection.


Model: WFDNF

System Sensor WFDNFS & WFDNFT waterflow detectors are designed for primary signaling in systems that use CPVC fittings
Supervisory Switches

The nerve centers of a fire sprinkler system are the switches and valves that control the entire system. System Sensor offers a variety of choices for supervising system control valves. Regardless of valve type (outside screw valve monitoring and yoke, post indicator, butterfly, or non-rising stem gate valve), our OSY2, PIBV2, and PSP1 models provide you with the peace of mind that comes from knowing that your system's control valves are being monitored.
Model: OSY2
The OSY2 is used to monitor the open position of an outside screw and yoke (OS&Y) type gate valve.


Model: PIBV2
The PIBV2 monitors the open position of post indicator and butterfly control valves


Model: PSP1
The PSP1 plug-in switch is designed for applications where no other type of listed valve supervisory switch can be used.