Distributor of fire protection products


900 Industries, Inc.
16 Deborah Drive Sutton, Ma 01590

Paul McNamara
Owner/President/Treasurer/National Sales Manager



Hole Saws

Pipe markers, yellow


Toll free - 1-800-225-7288
Phone - 508-865-9600

Fax - 508-865-7336

Dope Brushes

1/4" pilot bits


RIGID UNIVERSAL DIE SET (1" - 2") & (½" - 3/4")

Replacement Pipe Die, Nominal Conduit/Pipe 1 to 2 In.-11-1/2 TPI, Die Material/Type High Speed Steel, For Use With 4CW40, 4Z974, G2260991 Threading Machine Die Heads and RIDGID Model# 504A, 713, 816, 817 and 842 Universal Die Heads, Thread Type NPT, Thread Direction Right Hand, Number of Pieces 4




F514 CUTTING WHEEL
Use the RIDGID® F514 Thin Cutting Wheel with Ridgid tubing cutters to make fast clean cuts for conduit and potable water applications. Replace old, dulled cutting wheels or have extra on hand for bigger jobs. These Ridgid cutting wheels can handle wide pipe diameters of up to 2 inches and can handle heavy-duty steel and ductile iron. Some of our models, like the 202, are designed to be used with our power drives for experienced professionals. The tubing cutter wheel is fabricated from steel for increased durability and sharpness. It has a blade exposure in any of our tubing and pipe cutters of .312 inches. Use the Ridgid cutting wheel to cut custom lengths of pipe with a convenient, hand-held tool.




Greta Heath
Operations Manager


Tammy Itse
Customer Service Representive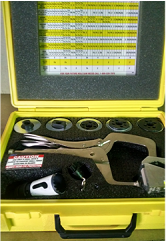 Teflon Tape 1/2" & 3/4"


PURPLE BRUTE TAPE 1/2" & 3/4"


Blazemaster Caulk & Walk (fire stop)
Sealant for CPVC